Call me crazy, but there's just something about being out and surrounded by people that stimulates my brain. Pop in some AirPods (noise canceling is my favorite), listen to some music and grab a comfy table and chair to do some work. All of this, while surrounded by the white noise of people hustling around.
I work better with white noise and some caffeine. As a remote worker, I work in coffee shops quite often. Even when I worked locally and had a desk in an office building, my co-workers knew that they could find me cozy in a chair at one of the local coffee shops.
I pack my 16 inch MacBook Pro, power cord, phone, iPad and pencil, a Field Notes book, and some pens, and I head to the local coffee shop to work. One of the problems I often had over the years is that the bags (backpacks or messenger bags) that I used over the years were better suited for traveling than local work. The difference is that when I travel, I need the bag to hold more than when I am local. When I'm local, I want something lightweight and slim, yet able to carry what I need so I can stay hands-free.
So I went looking around at quite a few bags. Some were slim, but heavy with thick materials. Some were slim, lightweight, but looked like they would last about a week. Some were slim, but held 13" laptops only. Finally, I found one that appear to be slim, lightweight, and could hold my tech.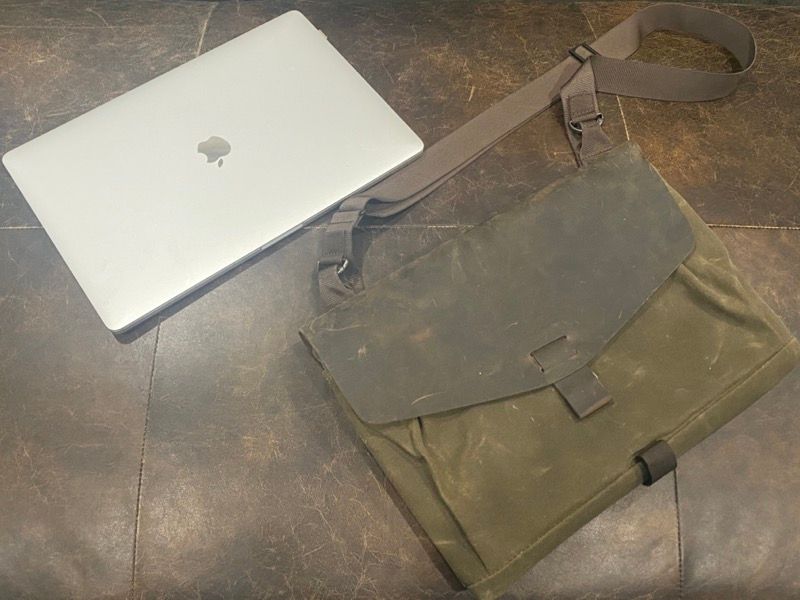 The one that caught my eye is a messenger bag style called the Outback Solo from Waterfield. They list it on their web site as "OUTBACK SOLO CASE FOR MACBOOK, IPAD, AND SURFACE" (please pardon all uppercase). This review will detail how my first two months have gone using this bag.
Disclosure of Material Connection: I received this product for free in the hope that I would mention it on my blog. Regardless, I only recommend products or services I use personally and believe my readers will enjoy. I am disclosing this in accordance with the Federal Trade Commission's 16 CFR, Part 255: "Guides Concerning the Use of Endorsements and Testimonials in Advertising."
First Impressions
The Waterfield company sent me the Outback Solo styled in tan waxed canvas with chocolate trim. I was skeptical that this slim carry case would be lightweight and hold my tech. When I opened the box and put the bag over my shoulder, I was happily surprised by how lightweight it is. There's a checkmark!
The bag closes with a magnetic latch. I was skeptical that this would close once the front pouch was filled. However, it does close nicely. The downside here is that it doesn't stay closed well. It is a magnet, so it only stays closed as well as a magnet can. It doesn't open by itself, but I also would not be surprised if it flies open on its own with a slight jostling of the bag.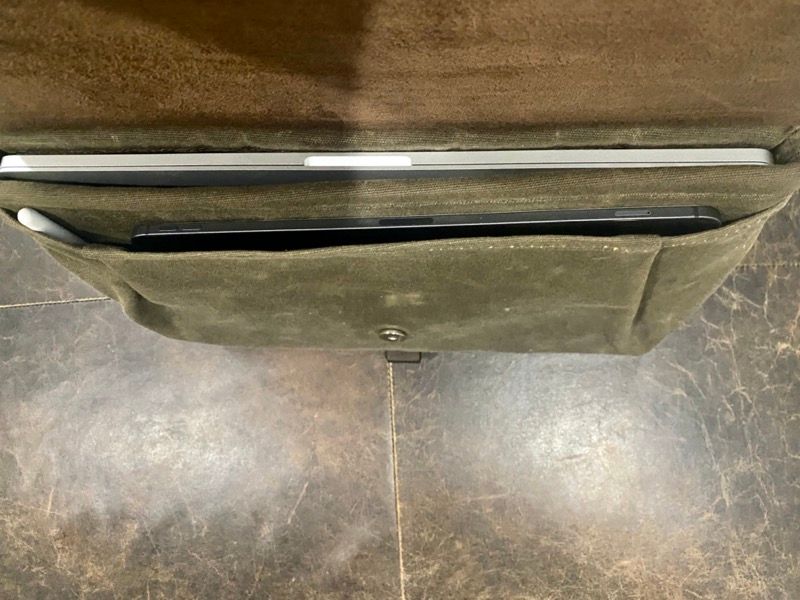 The bag is made of soft chocolate brown leather. The bag looks like it will wear well over time, giving it a "worn in" look. The strap seems to be made of nylon material, and it is adjustable.
The real test came when I tried to put my 16" MacBook Pro, iPad pro, power cords, and my iPhone in the bag. All went in nice and smooth!
However, I did run into a fit problem on day 1. I purchased a magnetic connector for the USB-C power cord, which sticks out about half a centimeter from my laptop. When I forgot to take it out, because frankly, I usually keep it plugged into my laptop so I don't lose it, the laptop barely fits in the bag. Sure, I could get it in, but it felt like it might rip the interior lining. However, after a few days of use, the bag stretched enough to fit this extra width, and it no longer snagged. I was relieved because it seemed like such a small protrusion. To be clear, the 16" MacBook Pro fit great without the USB-C magnetic connector, but with the connector, it was very tight. But after a few days, the bag stretched, and it fits fine now.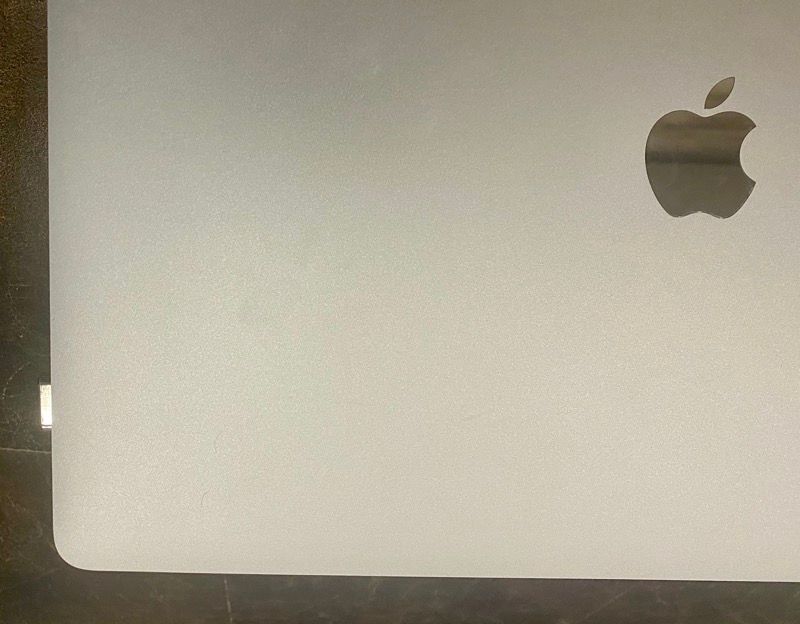 I am now able to get my essentials in the bag nicely, including:
Main pouch holding my 16" MacBook Pro
Front pouch holding my iPad Pro 12.9", apple pencil, Field Notes book, gel pen, and air pods
Back pouch holding my MacBook Pro's power cord and block
Somedays, I use the iPad Pro and others I do not. It depends if I want to use it as a second monitor with sidecar or if I feel like drawing that day (I sketch note quite a bit). So somedays the bag is jam-packed and others, I leave the iPad home.
The feel of the bag is excellent. I enjoy carrying it as it keeps my hands free and doesn't cause any pains after carrying it when walking around.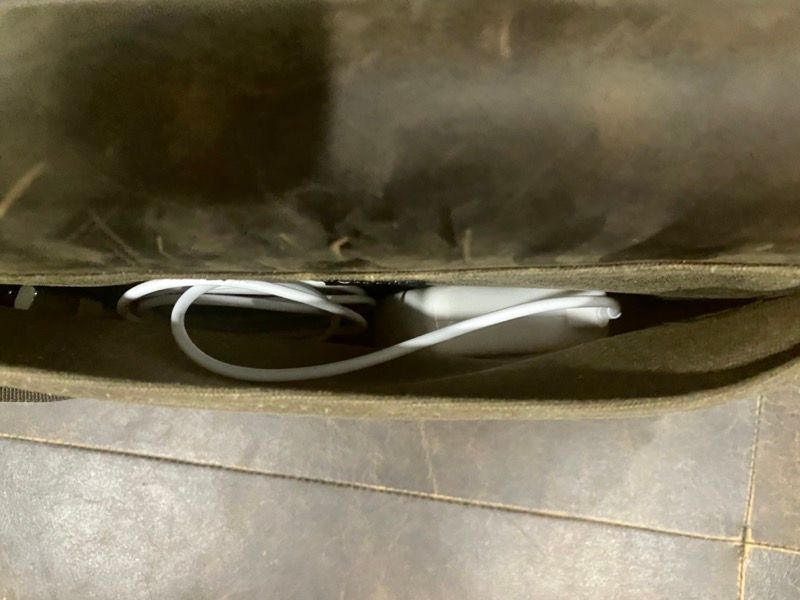 Does Your Laptop Fit
This may be the million-dollar question for you. Most laptop bags max out at 15" laptops, so I was concerned that my 16" MacBook pro would never fit, but I was glad to see it did! Waterfield has a variety of sizes for the Outback Solo bag. From their website, they list that "the main compartment in the Outback Solo is custom-fit for devices, like the:"
Apple MacBook & iPad Pro
16" MacBook Pro
13" MacBook Air Retina
13" MacBook Pro with Touch Bar
iPad 12.9" Face I.D. Apple Smart Keyboard Folio
iPad 11" Face I.D. Apple Smart Keyboard Folio
Microsoft Surface
Surface Pro X
Surface Pro 7 (and previous Surface Pro models)
Surface Go
Surface Book 2 13.5-inch
Surface Book 2 15 inch
Others
Pixel Slate
reMarkable (fits in Size #28)
The front pocket stores accessories like a power supply, cords, and other small items. It has a built-in pocket for the Surface Pen or Apple Pencil 2, and one for the iPhone 11 Pro Max. The back pocket can fit documents and other items.
all of the above is taken from the Waterfield web site
Is it Worth the Price
I was given this bag to review, but would I pay $159 for this bag? That's the real catch. Knowing what I know now, yes, I would. But that's the thing ... I didn't know how much I'd like it just by looking at the web site. before getting the bag I thought it was a bit on the high side of the price spectrum. If there wasn't a return policy, I don't think I would get it. And that is true for any bag I purchase. I want to make sure that if I get it and things do not fit, that I can return it.
Here is the key statement in Waterfield's return policy from their web site:
We do our best to make sure you will be satisfied with every purchase. However, should any item fall short of your expectations, return it to us unused within 30 days of receipt and we will send you a prompt refund. We don't charge any restocking fees (unless otherwise noted), and you will be responsible for all shipping charges.
Given their return policy, I think the risk is minimal. There is a shipping charge, but I think that is acceptable. You'll have to decide for yourself, of course. Waterfield appears to be out of San Francisco, so consider that if returns are on your mind.
Overall
Two months later, I enjoy this bag. It has a great feel, fits my tech, and feels light on my shoulder. It's a bit on the pricey side at $159, but I expect to get many years of use out of this bag. Now I keep my travel backpack filled with travel needs (power adapters, extra wires, essential medicines, almonds bags as a snack, and an emergency shirt). My Outback Solo is my daily commute bag and gets most of my use.
The difference is noticeable to me. Now that the Outback is my daily bag I am carrying less weight and spend way less time searching for things in my bag. It's way more convenient and less of a hassle than most bags I have tried.
Ultimately, if you are in the market for a stylish, slim, and lightweight bag for your tech, I recommend you take a look at the Outback Solo.