In this episode of Silverlight TV, Adam Kinney discusses how you can completely customize how a control looks and behaves. Adam explains how all Silverlight controls are lookless and that they can be customized using various templates depending on what you want to achieve. Instead of starting with a simple control like a TextBox, he demonstrates the power of templating using a ListBox and its various templates, including the ItemsPanel, ListBoxItem, Data Template, and more (we joke about the multiple names for some of the templates).
This is a great episode to watch if you ever wanted to know how to template controls, or even if you just want to know what all those templates are for and how to use them in Blend.
This also happens to be Adam's final episode as a Expression Evangelist with Microsoft. Be sure to watch just to see him as he shows us what he will be doing at his new job :-)
Relevant links:
Follow us on Twitter @SilverlightTV or on the web at http://silverlight.tv/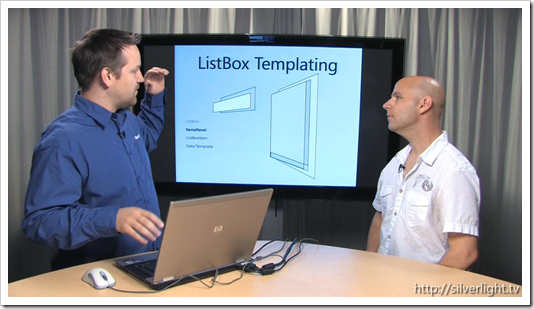 If you have not watched the previous episodes of Silverlight TV, you can catch them here.