My favorite conference of the year is approaching fast! MIX10 is shaping up to be a fantastic conference yet again. If you have attended MIX in prior years you know how the people and conversations found at MIX are top notch, rewarding and just a lot of fun. One of most memorable times at MIX09 is just the time I hung out in the common room where it seems everyone gathers before, during and after sessions. The keynote, sessions and speakers are all top notch and the after parties are not to be missed!

How can I get there?
Last year there was a very popular discount promotion where you can get half price off and a deep discount on the hotel. This promotion is being offered again this year. If you register by Friday January 15th you get a free hotel night at the Mandalay Bay(for a 3 night stay) and get $600 off your MIX10 pass! So go register now before this expires in 2 days: http://live.visitmix.com/Registration
Open Call For Speakers
Something new this year for MIX is the open call for sessions. This year the best of the session proposals sent in via the MIX website are on a ballot where you can vote for them. The top proposals getting the most votes will be added to the MIX schedule and the speakers will get their MIX pass on Microsoft (details are here)!  Here is your chance to vote for the sessions you want to see at MIX. There are several great sessions proposals from community presenters on the ballot. Voting ends Friday Jan 15th, so hurry and vote now.
Yet another way to get to MIX!
Create an app, under 10k, and you could get a trip to MIX10! The popular MIX 10K Challenge is back again this year too. All participants get a free MIX 10K t0shirt designed for the MIX10 event. The grand prize winner will receive a trip to MIX10! Official rules are on the web site, where you can also submit your entry. Submissions must be received by Jan 29th, so gets yours in soon.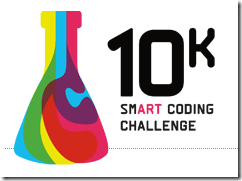 I look forward to seeing you there at MIX10!