Looking for an easy way to kick-start your Angular app development in under a minute? Now you can with HotTowel.Angular, a free NuGet package (and soon to become a Bower package too). What do you get? Let's take a look …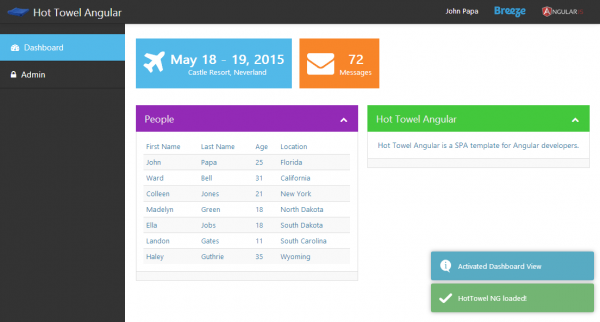 What's Inside?
There are a few libraries out of the box that come with HotTowel.Angular. Of course Angular is in here, but there are a few others I bundled into this package as they work very well together and I find myself wanting them in most apps. They help add a bit of style, theming, and helpers.
Angular core library
Angular's routing module
Angular's animation module
Twitter Bootstrap for layout
FontAwesome icons
Code Kick-Start
Adding some libraries is a convenience, but one of the first things that helps me get going with an app is to get the basic structure laid out. So I included what I have found to be most helpful in kick-starting my apps. I think you'll find that this code will help you get out of the gate quickly and you can customize it any way you like. Here is a glimpse of just some of what you will find. You can learn more about the structure of the app by reading this post.
Responsive Design with Custom CSS
Dashboard Structure
Multiple Views and Menu Structure
Spinner
Logging
Splash Page
Alerts via Toastr
Structured Code
Easy Peasy
It's super simple to install HotTowel.Angular. Use the NuGet Package Manager Console and go!

Install-Package HotTowel.Angular

I hope you all enjoy HotTowel.Angular!
If you want to learn more about creating apps with Angular, please check out my course Build Apps with Angular and Breeze at Pluralsight.