Short version:
My family and I are moving back to Florida, I'm leaving Microsoft, heading to Disney World, and we're doing it to be near family. I'll still be VERY active in the community and hopefully with Microsoft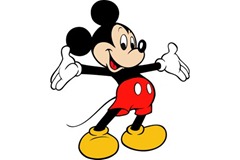 What's up next?
I'll be working for Disney, but also writing articles for Visual Studio Magazine, doing videos, hosting some shows (TBA), and speaking at events. Wanna stay in touch with me? Follow me on Twitter at @john_papa
Longer version … (with a bit of a rambling)
It's only been 2 years for me at Microsoft, but man it's been a great 2 years! The day I started in Developer Platform Evangelism (DPE) I was thrown into the fire and it's been a whirlwind since … but that's also why I love being an evangelist. Where else can you be involved in multi-billion dollar products used around the world, speak in keynotes, host channel 9 shows, and get to work with icons in our industry? And with Build behind us and the excitement around Windows 8 just beginning, it's a difficult time for me to leave … but it's what I feel is best for my family.
We've decided to make the move back east to Florida to be closer to our extended family and have our kids grow up surrounded by them, as my wife and I did. This was a difficult decision to leave Microsoft as I've truly enjoyed the past few years working at the "mother-ship". My last day is Monday Sep 19th, my family packs up the same day, and we fly to Florida on Friday. We'll be living near Orlando and I've accepted a position working for Disney World as a technical leader in their Center of Excellence team. Disney is allowing me to continue my community presence, which was absolutely essential for me. I'm just too social and bleeding edge not to stay connected

  I'll still be out there as I was before, during, and now post Microsoft doing the consulting/speaking/writing circuit.  Evangelism is in my blood.
I worked with a great team of folks, but I'd be remiss if I did not single out my boss (and skip bosses) Tim Sneath, Neil Hutson and Neil Leslie. They gave me the opportunities to succeed and I owe a lot to them. Great folks indeed.
Whenever you change jobs its nice to reflect to see if what you did had an impact. I like to think I did … and I certainly am very thankful that I took the plunge of moving out west for the past 2 years. No regrets whatsoever.
The decision to move to Seattle to work for Microsoft was a difficult one that my family and I took. But we felt that the career opportunity was just so awesome … and I absolutely have fond memories of my short but jam packed 2 years in Redmond. I spoke at 2 MIX events, 2 PDC's, Build, Tech Ed, and several other conferences. In fact, in my first week at Microsoft I was asked to prep a 60+ page whitepaper about Silverlight 4, prep 2 demos for the keynote, and prepare a 400 level presentation for PDC, which was in 3 weeks. It was tough, just moving to a new city, but man it was a blast! Thankfully I had some great team members like Adam Kinney (who also became a very dear friend) who were there to lend a hand while I got my feet wet.
I soon found that just a week after PDC 2009 that planning had begun for MIX 2010 (at least my involvement). I am sure the event team led by Jennifer Ritzinger and Mike Swanson had been working on it for months already. There always seems to be something new to focus on, something with large impact, something to really immerse yourself in. That's why I enjoyed it so much … always something new and a feeling that what I did could potentially have a positive impact.
I was track chair for the MIX events, hosted pre conference sessions, helped organize influencer events such as the MIXers and the Open Source Fest, prepared keynote demos (ex: ebay), spoke in a few keynotes, hosted community and partner interactions, got to work with amazingly brilliant people, and made several lifelong friends. I also had the pleasure of spending 6 months of deep planning while spearheading the Silverlight Firestarter event which had tens of thousand of people viewing it live. (Tons of folks went into this great event too of course, led by John Allwright and Raman Kohli.)
I got to work closely with the engineering groups too, most notably the Silverlight team, the Phone team, the Windows 8 dev teams, and the RIA Services teams. Hundreds of brilliant folks who were fantastic to work with. As a community leader, I was honored to be able to work very closely with and manage some groups such as the Silverlight insiders, RDs, and various MVP groups. Our community is a strength and is a tremendous asset to helping provide feedback to the product teams on the products created at Microsoft. I hope to go back to being one of those external influencers, myself.
The highlight of working at Microsoft was getting to know all the great people including Scott Guthrie. I had a chance to prepare and speak with Scott in a few keynotes. He's an amazingly brilliant man who manages to juggle a lot of tasks. But the thing that impresses me most of all is that when Scott talks with people, he always concentrates his full attention on them. You know he has a ton going on, but he somehow shuts it out and gives people his focus … and I've seen him do it with customers and co workers, regardless of stature.
I also recall a little idea that my colleague Yochay Kiriaty (thanks man!) and I chatted about when I first got to Microsoft about a weekly Silverlight and Phone based video series that turned into 83 episodes and over 4 million views of Silverlight TV. And for most of this year I was immersed in Windows 8 XAML and HTML/Javascript … which has been thrilling. I was glad I was able to present a topic at Build, especially since this was my last week. I plan on doing much much more with Windows 8 in the near future … it really is an exciting time to be in our industry. I'll leave more about Windows 8 for some future posts as I have a lot planned. You should be hearing more about Windows 8 from me at the upcoming events I'll be speaking at, some videos I'll be producing, and my new magazine columns (yes, there will be another one I should be able to announce soon too). I'm also working on some other exciting ways to share and interact with the community (hush for now).
But it is all about family … and my family is ultimately first on my list of priorities. We've felt detached from our extended family these past few years. I have 4 sisters, 15 nieces/nephews, am the youngest of 40+ grandchildren (I lose count), and have more family members than I can recall. All The vast majority of them live in NY and Florida. By moving back east we can see them more often and have our kids grow up living the family values that my wife and I both grew up with. My father, who is my best friend, lives in in Florida (as do my in laws, some uncles/aunts, cousins, etc) too. We lost my mother a few years ago to cancer and this year we lost several family members to time. No more regrets … the time is now … we're heading back so we can enjoy the time we are blessed with.
Why Disney? Well, anyone who knows me well knows that my family and I are just crazy about Disney. We love spending time there, love the customer service, and I already was familiar with the team I will be working with since I consulted with them a few years back. In fact, my new manager is a former Microsoft employee too. I'm looking forward to jumping in, and who knows, maybe I'll cross train with  Goofy … though the idea of hanging with Captain Jack Sparrow makes me light up

. As part of their Center of Excellence (COE) team I'll be able to stay with leading technology and influence the next wave of technology at Disney. There is a lot going on at Disney and I am very excited to have an opportunity to contribute and have a positive influence there.
If you are ever in the Disney World neighborhood, look me up.