I received my Nokia Lumia 900 today and was very excited to open it. I had 3 goals for today:
1) activate it
2) make sure my unlimited data plan was still in place
3) get my apps to the new phone
I accomplished 1 and 2 and I am currently working on 3. I'll be doing an unboxing post shortly after this here.
Disclaimer: this review is purely about the ordering, activation and setup process. So this is entirely on ATT … I'll be reviewing the phone and the OS in a later hands on post.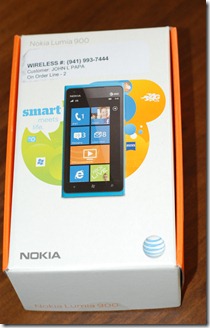 Don't forget the Micro SIM
Make sure you have a micro sim card before activating. If you went from a Samsung focus, like I did, then this will be key.
Activation
This took me about 30 minutes. I tried in vain for 15 minutes online to activate the phone. Eventually, I called Premier Support at 1-866-499-8008 and they had me turn both phones off, call me back on my wife's cell phone, and then they activated the Lumia 900. In all, it was 30 minutes form when I opened the box and not a great experience, but it certainly could have been much worse. That it did not work online and that the guy kept putting me on hold without explaining anything was not good. But 30 minutes is not terrible. So I give this activation process a generous  7/10.
Data Plan
I formerly had an unlimited data plan on my Samsung Focus. ATT no longer offers that plan. When I ordered the Lumia I made sure that they would put this plan back on my Lumia when I got it. They made a note of it and after 2.5 hours on a Sunday, I felt better about it. Then when I got my phone today I called the number they instructed me to call and they put the unlimited plan back on my phone. I'm very happy that honored their promise and despite the time on the phone, I give this a 8/10. They have me the impression that they will only be doing this for customers who have had the unlimited plan for a long time. Obviously, they are trying to phase it out completely.
Apps
I wish the apps would go to the Zune software so when I reconnect to my PC it would just resync them on the new phone. Or with Windows Live it would be great if it noticed the apps were not there, and asked me if I wanted them to be downloaded and installed. Alas, that's not reality. I had to go through the marketplace and try to find all the apps I had before and install them 1 at a time. The good news is that they queue them up so I can tell it to go install 50 apps. The bad news is that this process really needs to be much simpler and less user involved. Overall, a 5/10 rating for me.
Overall Activation Process
It took a lot of time on the phone beforehand and during the activation and setup process, which really was not fun. I'd rather be spending that time with my family. In the end, it all works, so I am happy … but I give the activation and setup process 6/10 overall simply for the many hours of effort that I had to put into it Sunday and today.