I just activated my Nokia Lumia 900 running the latest Windows Phone OS. I purchased the cyan colored Lumia … or blue to me

I'll post a thorough review later after I get more hands on time with it, but this post is all about first impressions. In short … WOW!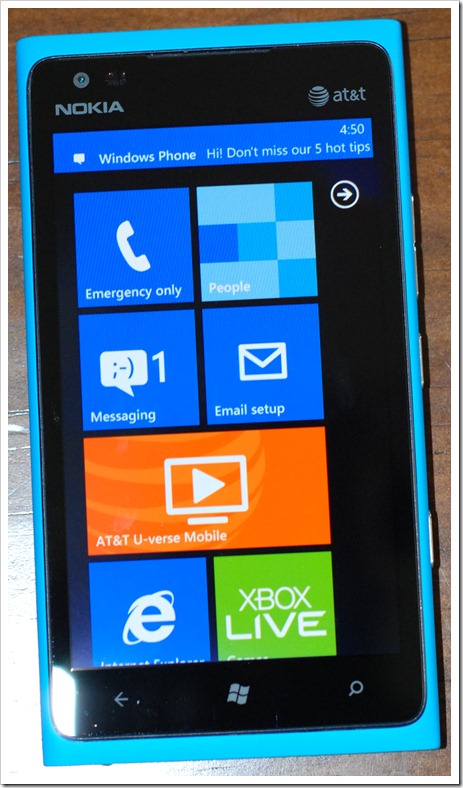 Tip: Click on the photos for the full size versions.
If you want to see my activation process experience, you can check it out here.
It arrived on time, as promised from ATT Wireless, via FedEx. Here is the phone inside the box and then a closeup of the box itself (with my number blocked out).
When I opened the Lumia box, I found a subtle reminder not to text and drive. How'd they know?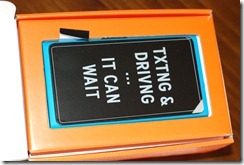 Here are the contents of the box laid out on the table. Notice that they sent a funky looking plug and USB cable, that looks oddly familiar.

There is also a SIM card door key, that is needed to open the door for the sim card. My device came with a sim card already punched out and installed, which was nice. I was upgrading a Samsung Focus (first edition) to the Lumia on the same phone number. But the sim card is a different size, so they sent a new one and installed it for me.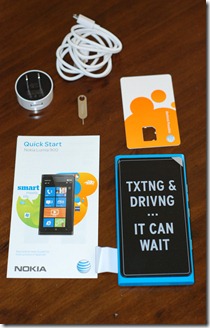 Here is the Lumia 900 cyan from the powered off state all the way through setup  and then its initial powered on state. Took about 8 seconds for the first boot to setup, then just a short bit to entered the setup information.
 <p>I had to skip the Windows Live setup because I could not get activated right away. Once I was activated, all was well though. </p> <p>I set up WiFi first and hooked up gmail, twitter (using Rowi from the marketplace), Facebook, and Windows Live. Took about 1 minute to get these going … so I was very happy with that.</p> <p>The screen is awesome. Its bigger than the Samsung Focus and the colors just pop. You can see here the Lumia 900 is larger than the Samsung Focus, but only by a little bit. It appears (and feels) slightly thinner than the Focus too. </p> <p><a href="/wp-content/uploads/media/Windows-Live-Writer/Nokia-Lumia-900-Unboxing_10BF4/DSC_2053.jpg"><img style="background-image: none; border-bottom: 0px; border-left: 0px; padding-left: 0px; padding-right: 0px; display: inline; border-top: 0px; border-right: 0px; padding-top: 0px" title="DSC_2053" border="0" alt="DSC_2053" src="/wp-content/uploads/media/Windows-Live-Writer/Nokia-Lumia-900-Unboxing_10BF4/DSC_2053_thumb.jpg" width="244" height="165"></a><a href="/wp-content/u ploads/media/Windows-Live-Writer/Nokia-Lumia-900-Unboxing_10BF4/DSC_2054.jpg"><img style="background-image: none; border-bottom: 0px; border-left: 0px; padding-left: 0px; padding-right: 0px; display: inline; border-top: 0px; border-right: 0px; padding-top: 0px" title="DSC_2054" border="0" alt="DSC_2054" src="/wp-content/uploads/media/Windows-Live-Writer/Nokia-Lumia-900-Unboxing_10BF4/DSC_2054_thumb.jpg" width="244" height="165"></a><a href="/wp-content/uploads/media/Windows-Live-Writer/Nokia-Lumia-900-Unboxing_10BF4/DSC_2055.jpg"><img style="background-image: none; border-bottom: 0px; border-left: 0px; padding-left: 0px; padding-right: 0px; display: inline; border-top: 0px; border-right: 0px; padding-top: 0px" title="DSC_2055" border="0" alt="DSC_2055" src="/wp-content/uploads/media/Windows-Live-Writer/Nokia-Lumia-900-Unboxing_10BF4/DSC_2055_thumb.jpg" width="244" height="165"></a><a href="/wp-content/uploads/media/Windows-Live-Writer/Nokia-Lumia-900-Unboxing_10BF4/DSC_2056.jpg"><img style="background-image: none; border-bottom: 0px; border-left: 0px; padding-left: 0px; padding-right: 0px; display: inline; border-top: 0px; border-right: 0px; padding-top: 0px" title="DSC_2056" border="0" alt="DSC_2056" src="/wp-content/uploads/media/Windows-Live-Writer/Nokia-Lumia-900-Unboxing_10BF4/DSC_2056_thumb.jpg" width="244" height="165"></a></p>    <p>It looks great, feels great in my hand (heavier than the Focus, but less toy like), and so far is very fast. I'll reserve judgment on the final review for when I have time to do more hands on with it. But out of the gate, I was very impressed with the device!</p>