Silverlight is surging and Silverlight TV is also doing well on Channel 9 and gaining momentum thanks to all of you who watch our episodes! I've been asked a few times how community members can appear on the show. First, we love community members appearing on the show. Some of our best episodes have come from the community efforts. So here are 2 general guidelines for submitting your appearance on Silverlight TV:
You are going to be on the Redmond campus in the future
You have something incredibly cool, useful and unique to share about Silverlight
To be considered, please fill out the short form below and send it to me. (I also included a FAQ below, to answer some questions about what to expect. )
Basic disclaimer: All submissions are subject to our review. Acceptance of submissions for Silverlight TV are up to our sole discretion.
I look forward to some awesome submissions!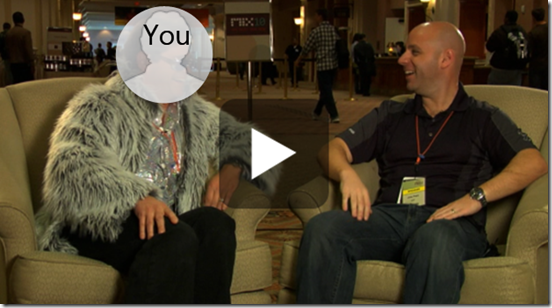 Thank you for considering appearing on Silverlight TV. Please respond to me with the following so we can consider your appearance on the show:

Suggested show title: 
What are the 3 key things you will demonstrate?

 

Outline of how you will demonstrate your content (5 to 10 Bullet points are ideal)

Links to resources (that you want to appear along with the video)

Common Questions:

Q. Who watches Silverlight TV?

A. 30,000+ Developers, IT decisions makers, Channel 9 faithful. We currently average 35,000 views per episode and growing worldwide.

Q. What should I prepare for?

A. We're very casual. Just show useful content, show "how-to's", and excite people to use Silverlight.

Q. What's the balance if code/demos vs talking?

A. We'll talk for a minute to introduce the show and at the end to wrap up. But all in between we should dive right into demos and code. The viewers want to see how they can be as cool as you are.

Q. When will my show air?

A. The schedule depends on a number of factors. I will try to give you a week's notice on when your show will air. It can be anywhere from 1 week to 2 months after we film depending on editing time and the other content we have in the queue. We generally air a new episode every Thursday. Though we also show some on Tuesday mornings if we have a lot of interesting shows to air.

Q. What if I screw up when we film?

A. No worries, it happens. In fact our viewers have stated they appreciate that the experts on the show make mistakes and that we show them. So if you compile and an error occurs, just fix it and move on. It helps them relate to you.

Q. OK, but what if I say something we need to edit out?

A. General rule is be prepared to not say anything you don't want public. But if you do, just tell me and we can edit it out. No worries.

Q. How long are episodes?

A. We aim for 12 to 15 minutes. The key is preparing your demo & code to be 7 to 10 minutes, tops.

Q. Are you crazy? 7 to 10 minutes is insane!

A. Why yes, I am clinically insane. But that's besides the point. The key to getting a tight presentation is to pick 3 clear points. No more.

Q. Bleh, I can do my demo in 5 minutes, no problem.

A. I've heard this one many times. While you can run through it that fast, remember that things go wrong in demos and I'll be asking you questions along the way and reiterating important points. So it will go slower than you expect.

Q. What do you do to promote the show?

A. I blog, tweet, post on a facebook page, send smoke signals. We also have a twitter user account @SilverlightTV .

Q. What can I do to promote this?

A. Blog, tweet, send smoke signals.

Q. Where can people see my episode?

A. Silverlight TV is found on www.silverlight.tv and often on the home page of Channel 9.

Q. Can people subscribe to the show?

A. Why yes, they can indeed. We have a rss feed on the www.Silverlight.tv page, in iTunes, and in Zune.