Tonight I rediscovered how much I love the Visual Studio Productivity Tools. Why? Because I rebuilt a PC last week and I had yet to install them. Sure, I installed VS, SP 1 and Resharper … all of which are essential to me as a developer. But I had not realized how much I was using the Productivity Power Tools. So I thought I might share a few of my favorite features.
Before I begin ….
I won't go too deep into the features as you can check them all out here, but my top ones are:
Enhanced Find

Hit Ctrl + F you get a pop up find window which accepts regular expressions and brings you right to the "found" item. Simple, sure, but less intrusive and more powerful than the built in Find.

Solution Explorer Navigator

Filter files, show just the opened or unsaved files, search for class members, multiple file selection and drag/drop, and much more. Its like Solution Explorer on steroids. My favorite keystroke here is Ctrl+2 to navigate to a class in a file.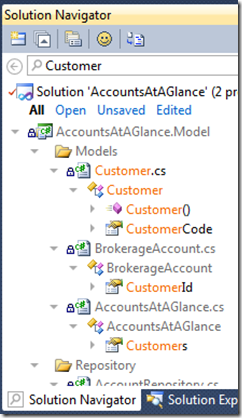 Add Reference

This is how add reference should have been built . You can search for assemblies, filter them, and see detailed information about them. It's also smart enough to warn you about multi targeting issues.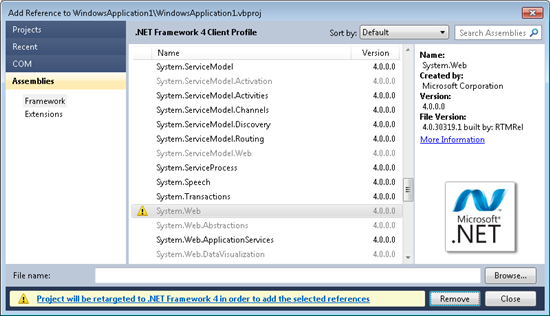 Tab Behavior

There is a ton of new tab behavior added, but my favorites are:

Ctrl+Num Pad n to activate the nth tab
Show pinned tabs in their own row (nice for grouping a set)
Sorting tabs by project within a solution or alphabetically (or both)
Tab UI coloring … by project is my favorite, but you can do this by regular expression too

Quick Access

This is a generic jumping off point for doing something quickly. It opens up a dialog and you can type a command in which will then filter down the available ones. Pretty nifty and quick, especially when you forget those keystrokes or where they are in the menus.

Align assignments

I like my code aligned. Highlight the code, press Ctrl+Alt+] , and your assignments get left aligned.

Tooltip

My favorite feature, bar none, is the extended help and tooltips when you float over variables, types, methods, etc. Very very cool and super useful.