It has been 7 weeks since Silverlight TV kicked off its first episode with Keith Smith. Since then we have posted a total of 12 shows on a variety of topics. Here are some interesting numbers from the show:
12 The number of episodes we have aired in since the debut.
145 The number of comments our viewers have left on Channel 9
703 How many followers @SilverlightTv has on Twitter
333,000 + The number of views Silverlight TV has had in 7 weeks! Thank you so much for watching!
Along the way we learned a few things, gotten some great feedback, and we will be making a few minor changes over the next few weeks. Some things we have learned:
There is no end of Silverlight topics to explore! Keep the requests coming.
15 minutes seems to be the sweet spot
A regular schedule and cadence is helpful
Adam Kinney likes to watch Silverlight TV every night at 10pm
We really need a blooper reel. (That's all I am saying on this one)
We need shorter guests with less hair
OK, so maybe we don't need shorter guests with less hair. But even so, maybe I can get Charlie Kindel to come on the show or Keith Smith to make a return visit. They have the right haircut to fit in. :-)
Now Every Thursday Morning you can count on a new episode. Starting this week we'll be posting a new episode of Silverlight TV every Thursday morning. So you can be sure each week to catch the next episode every Thursday morning. We'll still add bonus shows occasionally for special occasions like PDC or MIX, but having a regular cadence will allow our viewers to count on us every Thursday morning.
Get Your MVVM Fix with Silverlight MVP, Laurent Bugnion this Thursday. Laurent will be discussing his expertise in MVVM and show his MVVM Light Toolkit. I'm really excited about this interview as MVVM is something I am also passionate about. 
Get Your Free SWAG! Don't forget to show your love for Silverlight TV and get one of the laptop stickers or T-shirts that we'll be handing out while supplies last at MIX. Keep following us on Twitter @SilverlightTV to get clues on when and where to get the Silverlight TV swag!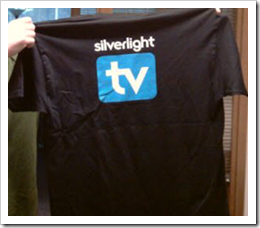 Please keep the feedback coming and keep tuning in to watch Silverlight TV, every Thursday morning.