I've been using my ASUS ZenBook UX31E out and about for blogging, surfing, coding, and presentations for about 5 weeks now. A lot of people have commented on it with the common theme of it being a slick looking, eye catching, lightweight machine. I agree that its got the looks. The ZenBook is pretty snappy too for a i5 with 4GB of RAM and has done a very good job during presentations. When I wrote about my unboxing experience, I was originally bothered by the keyboard (it's just not as fluent as Lenovo or even Vaio keyboards) and the overly "washed out" screen.  Ultimately, I found some very good uses for the UX31E. It's fair to note that these machines sell for around $1000 depending on varying features. So when evaluating my options I try to keep in mind that value for the cost. In this review I broke down my experiences by how I used the ZenBook.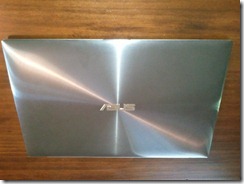 But first, just as a reminder…
Disclosure of Material Connection: I received one or more of the products or services mentioned above for free in the hope that I would mention it on my blog. Regardless, I only recommend products or services I use personally and believe my readers will enjoy. I am disclosing this in accordance with the Federal Trade Commission's 16 CFR, Part 255: "Guides Concerning the Use of Endorsements and Testimonials in Advertising."
Power
If a PC can't handle the load, I instantly toss it aside. So did the ZenBook hold its own with my daily use? Simply put, the ZenBook handled all of my requests admirably. I suspect that the i5 and SSD had a lot to do with this as the 4GB of RAM is certainly not a lot. It handled lightweight tasks like surfing the web, blogging with Live Writer, managing email, editing photos, and playing games on the internet (that was my daughter) quite well. When I installed Visual Studio 2010 on the ZenBook I expected some bigger lags but I was pleasantly surprised in how fast it loaded and built projects. Is it as fast as my i7, 8GB RAM machines, no … but its also half the cost. Overall, I the ZenBook was fast and powerful enough for me.
Writing Code
I do a lot of coding, writing demos, and tinkering on the side with Visual Studio. The ZenBook had no problems keeping up with me and I was happy to code along with it. My biggest concerns were that I never quite got used to the keyboard. Maybe I'm picky, but I just didn't get used to the feel of the keyboard and often had to go back and correct typos more often than usual. This was a problem for me when coding because my mind takes me in many directions, very quickly, and having to go back really took me out of any rhythm I could get into. I am used to nice expensive keyboards that are very responsive. Maybe I am too used to them, because my most common issue was I "missed" keys (did not press hard enough). Ultimately, because of this hurdle I could not overcome, for writing code in long blocks of time I just was not as productive with the ZenBook.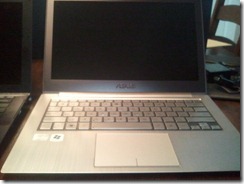 It's worth noting that the screen does appear to be a little washed out, too. I played with the contrast quite a bit as I kept thinking that maybe it was turned up too high. I could never get it to be as sharp and colorful as I had hoped. This wasn't a killer, but it certainly wasn't a plus either when sitting down to write code for long periods.
Presentations
I took the ZenBook to several presentations and it simply excelled. First, its lightweight at less than 3 pounds so it was easy to carry around. The power supply is lightweight too, which is often a place that these tiny laptops manufacturers lack. The ZenBook also looks great, so when doing presentations I often got a lot of remarks about how nice it looked. It was certainly a topic of conversation with its shiny case. The fast start feature on the ZenBook was also great, so I could close the lid, carry it from room to room, and set back up in just a few minutes. The keyboard issues I mentioned previously did not bother me at all for this type of use as during presentations I am more deliberate about what I type. So overall, the UX31E is an ideal presentation laptop for me. The laptop comes in a nice looking case and also has a small ouch for the video out dongle.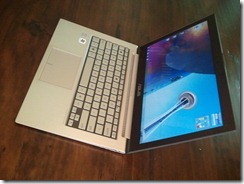 Family Use
My daughter loves this laptop. I let her use it for a day and not long after she was attached to it. We have several laptops and desktops in our house along with a Windows 8 tablet from Build and an iPad 2. but the kids enjoy the laptops because they can do so much more with them. My daughter gave the ZenBook a good test by writing stories in Word, surfing the web, playing games (HTML5 and Flash based), watching videos, and doing homework (sometimes). The ZenBook fared very well for all of these uses and my daughter simply loved it. In fact, I had to tear it away from her to write the review

Sound
I normally don't say anything about the sound on a computer,because frankly, I don't often use a computer's built in speakers for music or movies. Instead, I use nice headphones or a dedicated sound system. But for being a built in sound system, the ZenBook's sound is exceptionally good. I was very happy with the quality of the sound coming from the UX31E and found myself using it more that I ever had with a laptop.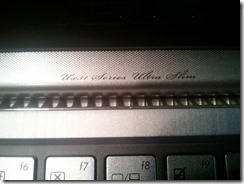 More on the Keyboard
Interestingly, my daughter had the same problems with the keyboard early on, but got over them faster than I did. She no longer has any slow downs with the keyboard. I however, never got comfortable with the keyboard responsiveness. Keyboards are a personal taste, so I expect some will be fine with it and others will find the same issues I did.
Summary
The ultimate test for me is if I still use it after a month. So do I? Yes, I found the ZenBook to be very useful for travel and presentations, but not for long periods of day to day development. I did find a hidden gem though, as the ZenBook is ideal for my oldest daughter. In fact, my younger children all eye the laptop too. So it seems that its looks and weight (kids lugging it around the house) are very appealing to families. My kids are picky too, as they get frustrated when their apps are slow (Word, email, videos) or games won't work. They had no such issues on the ZenBook.
The keyboard was a killer for me, but my family is happy about that since they now have a great laptop that they share. I'll still use it for travel and presentations, but on all other days, its slated for my family's use. I'll follow up with a final conclusion in April, since I have a few more tests slated for the ZenBook.