John interviews a panel of 3 well known Silverlight leaders including Shawn Wildermuth, Dan Wahlin, and Ward Bell at the Silverlight 4 launch event. The guest panel answers questions sent in from Twitter about the features in Silverlight 4, thoughts on MVVM, and the panel members' experiences developing Silverlight. This is a great chance to hear from some of the leading Silverlight minds. These guys are all experts at building business applications with Silverlight.
Relevant links:
Follow us on Twitter @SilverlightTV or on the web at http://silverlight.tv
You can see the episode online by clicking the image below: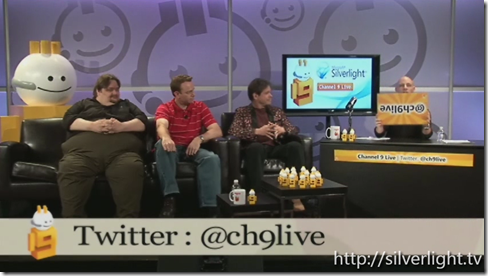 Don't miss the next episode on Thursday May 6th ... Silverlight TV 24: eBay's Silverlight 4 Simple Lister Application
If you have not watched the previous episodes of Silverlight TV, you can catch them here.