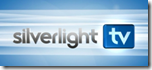 The latest episode of Silverlight TV is now available on Channel 9! In episode 7 Glenn Block, Program Manager working on MEF and self professed "MEF Maniac," makes his first visit to Silverlight TV. Glenn and John set aside the code for this episode, taking a step back to discuss and explain some of the top scenarios where using MEF adds value. If you are considering using MEF and want to know where and when it makes sense, this is an ideal episode for you to watch.
You can see the episode online by clicking this link or clicking the mage below:
Silverlight TV is once again unscripted and shot in 1 take. Don't miss this one!
If you have not watched the previous episodes of Silverlight TV, you can catch them here.