Thank you to everyone for watching Silverlight TV on Channel 9! We have been getting some great feedback on what we should include in future shows. We'll be scheduling quite a few shows in the near future, starting with 2 new episodes that will air this week.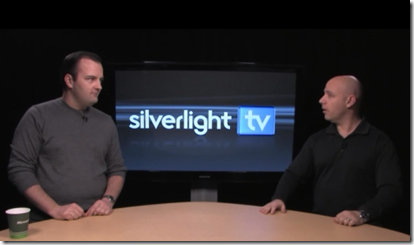 The first new episode this week is with Mike Downey. Every time I talk to Mike I am impressed! Mike spent some time with me to explain how he starting get interested in moving from Flash to Silverlight.
Silverlight TV Episode 2: Perspectives on Flash and Silverlight

Mike Downey (Principal Evangelist) shares his experiences with Flash, Flex and Air and discusses how they compare with Silverlight's offerings. Hear Mike, a former Flash evangelist for 9 years before coming to Microsoft last year, discuss his decision to switch to Silverlight and what incredible projects he has already influenced with Silverlight.
Keep an eye out for another episode later this week. You can be alerted when news shows are available by: