I just updated the "Sticky" plugin for Seesmic Desktop 2 t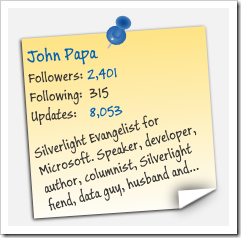 hat I created. 
Please feel free to download it and test it out. If you find any issues, please let me know on Twitter at @john_papa.
To learn more about Sticky, check out this page which is always up to date.
Latest News & Updates
I made some bug fixes and added a few enhancements in the latest version: 1.0.50906. Here are the highlights:
Follower count threshold in the Settings

defaults to 100
has range of 0 to 10,0000

Sticky will not appear for all Twitter timeline items with follower count less than the threshold
Auto update feature enabled to retrieve future updates when SD2 checks for them
Set the Threshold
You can set the follower count threshold in the settings. Go to the Settings for the Sticky plugin. Find the Sticky plugin in the list and click the Settings link. It defaults to a value of 100 and be be adjusted from 0 to 10,000. This setting turns Sticky off for any timeline items where the follower count is less than the threshold. Be sure to click Save.