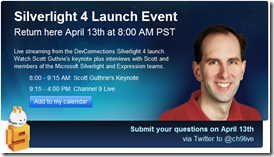 Want to be at DevConnections for the Silverlight 4 Launch but can;t make it? No worries, you can watch as Scott Guthrie launches Silverlight 4. Following the keynote you can watch Scott in special one hour edition of "Ask the Gu" along with other Silverlight folk like me to answer your questions on Channel 9 Live.
To watch the keynotes and Channel 9 Live coverage head to http://live.ch9.ms on April 12th and 13th. Silverlight required, of course :)  To be a part of the conversation tweet your questions and comments with @ch9live anywhere in the message and we'll see it.
All day on April 13th you can watch interviews with Silverlight and Blend experts such as Scott Guthrie, Tim Heuer, Joe Stegman, Deepesh Mohnani, Arturo Toledo, Wayne Smith, Ward Bell, Dan Wahlin, Shawn Wildermuth, me, and many others! You can see the full schedule online at Channel 9.
You can watch the live stream of the keynote and/or the Channel 9 Live stream interviews by going to http://live.ch9.ms on April 12 and April 13.
I'll be hosting 2 special edition episodes of Silverlight TV for the launch event too on April 13th. In the first episode I'll be interviewing various leaders from the Silverlight community on their perspectives of Silverlight. In the second episode I will talk with some leading agencies who have done some amazing work with Silverlight. This is your chance to ask them questions live on Silverlight TV by sending your questions to @ch9live .