Today was supposed to be the geekSpeek webcast for my ADO.NET Data Services and Silverlight topic …. however … life took a detour.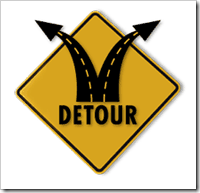 This morning my family had a little scare and I had to rush to the hospital when my unborn son decided to shake things up a bit. Both mom and the baby are doing fine after hours  and yes we convinced him to stay inside for what we hope is another 11 weeks when she is due. We were very touched by all of he emails, text messages and tweets we received from so many people today. Thank you all very much for the thoughts, kind words and prayers.
Back off the detour … I apologize for the postponement of the geekSpeek webcast and I appreciate your patience as we rescheduled it to January 8th, at 3pm EST (12 PT). The topic will be using ADO.NET Data Services from Silverlight, one of my favorite topics :) Come for the great topic, conversation and demos! This is a great chance to hear about some of the topics from my book Data-Driven Services with Silverlight 2.
Event ID: 1032397110
Start Date:
Thursday, January 8, 2009 12:00 PM Pacific Time (US & Canada)
Event Overview
In this geekSpeak, Microsoft Most Valuable Professional (MVP) John Papa explores how to consume ADO.NET Data Services from a Microsoft Silverlight 2 application. Be sure to bring your questions about Silverlight for John. The geekSpeak webcast series brings you industry experts in a "talk-radio" format hosted by developer evangelists from Microsoft. These experts share their knowledge and experience about a particular developer technology and are ready to answer your questions in real time during the webcast. Your hosts for this geekSpeak are Glen Gordon and Brian Johnson. To ask a question in advance of the live webcast, or for post-show resources, be sure to visit the geekSpeak blog.

Guest Presenter: John Papa, Trainer, ASPSOFT
John Papa is a Microsoft Visual C# Most Valuable Professional (MVP), International .NET Association (INETA) speaker, member of the WPF and Silverlight Insiders, consultant, speaker, author, and trainer for ASPSOFT. He specializes in professional application development with Microsoft technologies, including Microsoft Visual Basic, Visual C#, Microsoft .NET, and Microsoft SQL Server. John has written over 60 articles and authored several books on data access technologies, including ASP.NET, Windows Presentation Foundation (WPF), Microsoft Silverlight, ADO.NET, XML, and SQL Server. He can often be found speaking at industry conferences such as VSLive and DevConnections and viewed on MSDN webcasts. John is currently working on his upcoming book Data-Driven Services with Silverlight 2 (O'Reilly, 2009). You can always find John at http://johnpapa.net

View other sessions from: geekSpeak: Join a Discussion Like No Other

If you have questions or feedback, contact us.
Registration Options
Event ID:
1032397110

Register Online